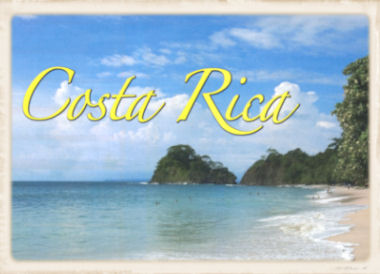 Costa Rica Info
Costa Rica
Costa Rica is a popular tourist destination due to its Latin American charm and mix of historical and cultural interest. The warm weather and excellent snorkelling and diving opportunities bring in tourists and you can surf off the coast of Costa Rica too. Split into seven provinces, and then into a further 81 'cantons', with each of the 81 governed by a Mayor. The seven provinces are; Alajuela, Cartago, Guanacaste, Heredia, Limon, Puntarenas and San Jose, each of which have their individual charms and cultural differences. With so much to discover it can be difficult to decide what to do, so with that in mind, here's a mini-guide to Costa Rica.
Attractions – When visiting Costa Rica you're spoilt for choice as there are a huge number of things you can do. With a tourist industry worth $2 billion annually, Costa Rica is the most visited Central American country and boasts annual visitor number of 2 million. But it is the vast number of activities which make the place so impressive, drawing tourists for the scuba diving, surfing and with a large ecotourism base too. There are large numbers of protected areas and national parks and is in the top ten destinations in the world for ecotourism.
Culture – The Costa Rican motto says it all, "Pura Vida!" translates to "This is living!" and gives a great insight into the zest for life that its people have. Its location explains its unique flair as Costa Rica was often the point at which the South American and Mesoamerican cultures met. The Spanish conquistadores arriving in the sixteenth century had influences in the northwest of the country whilst the centre and southern parts have Chibcha influences. All of this makes for a fantastic mix of cultures making the country what it is today. It's also a very proud country and boasts many cultural interests such as its impressive national theatre building and various museums charting its interesting history.
Costa Rica is a fantastic place to visit and well worth thinking about when you're deciding where to go. Happy holidays!
Costa Rica's Top Activities
With so many things to do in Costa Rica it can be hard to decide what to fill your day with. The options are numerous and with limited time making sure you make the most of it is crucial. With that in mind, here's a mini guide to what activities Costa Rica has to offer to help you plan your stay.

Scuba diving and snorkelling – The seas around Costa Rica are perfect for scuba diving and snorkelling as they offer a wide range of marine life and corals to see. To the east you can dive in the Caribbean Sea and see its incredible array of brightly coloured fish, including the hammerhead shark, white tip shark, turtles and the beautiful but deadly angelfish. To the west lies the North Pacific Ocean and its unique volcanic structures and an equally impressive array of sealife. And then there's the impressive Coco Island, a world renowned dive spot famous for its calm water and excellent dives.
Surfing – Given that the country is flanked by two surfable expanses of water, the Caribbean Sea and North Pacific Ocean, it's no surprise that surfing is incredibly popular in Costa Rica. The geographical makeup of Costa Rica means that its beaches frequently have offshore winds and the water surrounding it usually provides good swell. The beaches have the usual surf equipment hire shops and surf schools for beginners wanting to ride the waves or intermediates wanting to improve their technique. The large number of beaches, around 40 mapped surf ones in total, mean that overcrowding is not usually a problem, and in the event that it is you're never too far from a quieter one.
Fishing – Costa Rica is one of the most popular destinations for those wishing to experience some world class fishing and it's a great activity to try out if you're on the island. Companies offer day trips out onto the ocean to cast your line and see what you can catch and you'll want to head to Flamingo Beach to find the best sports fishing charters. Whether you're an experienced fisherman or a novice wanting to try it out for the first time you couldn't find a better place to do so. It really is great fun and the fish are usually thrown back so it's kind as well. A really fun day out.
Rain Forest Aerial Tram: There is nothing like it in the world. This guided tour of the Rain Forest canopy is – without doubt – a must do activity for anyone coming to Costa Rica. An hour from San Jose; ideal for visitors of all ages.
Exploratory SCUBA Diving: This all-inclusive (all accommodations, meals, in-country transfers and listed sightseeing activities) high-action adventure tour includes bungee jumping, canopy tour, and three days of three tank Scuba diving.
Monteverde Cloud Forest: A tough drive to get there and some might say not worth the trip. However, it is home to the Quetzal, Costa Rica's most famous bird and a wonderful Cloud Forest.
Tamarindo Beach: This is a great example of Guanacaste's beautiful Pacific beaches. This funky surfer's haven is not fancy, but filled with life.
The Big Adrenaline Rush!: During this action-packed trip, only for adventurers, you will visit rain forests, exploding volcanoes and pristine beaches. Activities include white water rafting, bungee jumping, Scuba-diving, soaks in natural hot springs at the foot of an active volcano and more.
Tortuguero: The famous turtle nesting area on Costa Rica's East Coast. The boat ride on the inland canals is an ideal way to see a variety of wildlife.
Arenal Volcano: Arenal is Costa Rica's most famous and active volcano. Around it, there are several delightful hot springs, the most developed of which is at Tabacon Resort. If you are lucky, you will see Arenal «blow its top», but often the summit is shrouded in clouds.
White Water Rafting: You do not have to go on Class Four Rapids to have a great time. There are trips of different difficulties and it is an ideal way to flow through the rain forest and see the wildlife. Be prepared for long bus ride.
Montezuma: The place to go to get away from it all. A great beach environment away from the crowds.
Corcovado: A beautiful black sand beach and rain forest combination on the undeveloped Osa Peninsula. Only problem is getting there.
Scuba Diving and Snorkelling in Costa Rica
Costa Rica is one of the best snorkelling and diving locations in the world, home to 3.5% of the world's marine life and with coasts in different oceans meaning a wide range of species you'll be amazed at what you can find. From starfish to sea turtles the possibilities are endless, and with a number of companies running dive school and offering equipment rental it's a great way to discover the world beneath the waves. Here's a mini-guide to help you when you're in Costa Rica.
The Caribbean Side – Renowned for its fantastic snorkelling opportunities, the Caribbean coast is also home to a large array of coral. Try snorkelling early in the morning as the sea is calmer and there are less people out on the water to scare away the fish. There you're likely to see angel fish, starfish, turtles, starfish, crabs and a whole load of other brightly coloured warm water fish. It really is worth a look if you're in the area and will give you an unforgettable experience.
Coco Island – Widely regarded as being one of the world's top ten scuba destinations, Coco Island is 310 miles off Costa Rica's South Pacific coast. Schools of fish and large sea animals come close to the shore due to the undisturbed waters, making it perfect for scuba divers who want to get as close to the sealife as possible. You can see hammerhead sharks, white tip reef sharks, bull sharks, mobula rays, Galapagos sharks and a whole host of other species. To get to the island you'll need to arrange a place on one of the tours run by approved companies and usually last about a week.
Central Pacific – This region is better known for its volcanic formations as opposed to the usual coral which attracts scuba divers and snorkelers. There you'll find white tip sharks, turtles, eagle rays, puffer fish, parrot fish and even lobster. For living corals you'll have to dive down but in shallow waters you can find captivating volcanic formations and large school of fish. It offers a fantastic sight and a totally different experience to most other dive spots. The best time to dive or snorkel there is in the November to April dry season.
The Top Surf Spots
Surfing is an increasingly popular sport as more and more people flock to the water to have fun and keep fit. Popular with young people because it's a relatively cheap hobby to get into as once you've got your board and wetsuit you're free to ride the waves, as well as the added bonus of having so many good surf spots across the world. Here are some of the best.
Devon & Cornwall – Britain's unrivalled surf spots, the counties of Devon and Cornwall have Croyde and Newquay respectively, both of which are fantastic. Croyde is a lot quieter than the ever popular Newquay and just a short drive away from it is Saunton, one of the longest beaches in the world and a good surf location. Croyde and Saunton offer good surf for beginners, intermediates and experts depending largely on the conditions as some days the waves can be calm and other they can be dumpy and dangerous. Affordable accommodation can be found but in the summer Newquay can be subject to overcrowding on the sand and in the sea. For a more relaxing time go to Croyde, for a visit to the quintessential British surf spot, Newquay is unbeatable.
Biarritz – Located on the South West coast of France, Biarritz is popular amongst surfers because of its good waves and exciting town. The town itself is rather chic and reminds one of Nice with its excellent quality cafes and rather expensive nature. Accommodation can be very expensive, around £2000 a week for a villa, so most surfers opt to stay in youth hostels or campsites. But whilst the town itself is expensive, it is also a fantastic place with lots of good places to eat and drink and with a little searching you'll find ones which are reasonably priced.
Costa Rica – With miles and miles of beaches and spoilt by being flanked by both the Caribbean Sea to the east and the North Pacific Ocean to the west, Costa Rica is immensely popular with surfers. The large number of beaches mean overcrowding is not a problem and the waves are consistently good. The hot climate means wetsuits are not necessary, leaving you free to surf comfortably in board shorts or a bikini. Great waves, great climate, great fun.
All of the above are good places to consider when thinking about a surf holiday.
The World's Best Dive Spots
Scuba diving is one of the most popular holiday activities when travelling to hot climates. With companies operating dive schools to give you the necessary training to see the amazing world beneath the waves it's never been easier to have a go. And if you're already a keen diver then you'll probably be thinking of where to dive next. With that in mind, here's a mini guide to the top dive spots which can be enjoyed by both beginners and advanced divers.
Thailand – To the west of the country is the Andaman Sea, where you can see a wide array of sealife and experience a great first dive. To the east you'll find the Gulf of Thailand which has less to see than the Andaman Sea and, therefore, is where a lot of dive schools operate when first teaching you the basics. Once they're confident that you've grasped all the safety precautions and are ready for a treat they'll head over to the west to continue your course. The average sea temperature is 28 degrees and the visibility is excellent.
Julian Rocks, Australia – This marine reserve is a fantastic sight for divers due to the diversity of its sealife and its geographical appearance. The area is made up for ancient metamorphic rock which was pushed through the earth's crust many millions of years ago. Technically an extension of Cape Byron, the Rocks provide shelter for many marine animals. Due to the changing temperatures and changing currents as the year progresses, the sealife in the area changes from time to time. Leopard sharks are around in mid-summer when the water temperature is around 24-27 degrees, whilst the Nurse sharks arrive in colder months.
Costa Rica – Flanked by the Caribbean Sea on the east and the North Pacific Ocean on the west, Costa Rica is popular amongst scuba divers and snorkelers alike. The Caribbean Sea side offers the chance to see the kind of brightly coloured warm water fish typically associated with the Caribbean as well as crabs, lobster, sea snakes, sea cucumbers and eels. The North Pacific Ocean side offers something different in the areas of volcanic structure. Alien looking rock formations created by volcanoes millions of years ago shape the seabed in parts and are a great place to see rarer types of sealife such as the white tip shark. Off the coast of Costa Rica is Coco Island, one of the best dive spots in the world, which can be reached through approved tour companies. Visiting Coco Island is well worth the effort if you can donate the time and money needed.
Comentarios Facebook