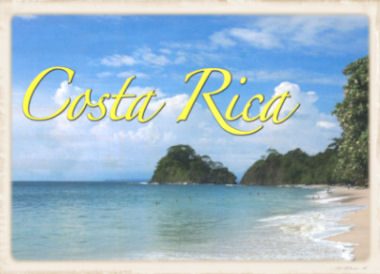 Learn Spanish in Costa Rica
The information contained in these page was developed and put together to give you a clear picture of who's offering intensive Spanish courses, the different options available to you plus a complete overview of what to expect, what happens when you arrive in Costa Rica, the country itself, the schools, and other important information may you need to know for a pleasant and successful stay while learning Spanish.
Take a look at who's offering intensive Spanish courses to individuals who wanted to enhance their linguistic skills and fluency in the language.
Costa Rica is often called the Switzerland of Central America. Although Costa Rica is a small country with a population of approximately only 4 million inhabitants, it has the most diverse selection of flora and fauna, an immense natural variety. Costa Rica offers a wide range of ecosystems and beautiful landscapes from marvelous beaches to rich rain forests, easy and fast to reach from San Jose. Costa Rica's latitude guarantees steady temperatures through all the year. Costa Rica obtains the second highest standard of living in Latin America and accomplished as well a high standard in education, environmental protection and medicine. Costa Rica is a constitutional democracy, the oldest and most stable democracy in Latin America, and one of the few countries in the world without an Army.
The high number of US-Americans and Europeans living in Costa Rica speaks for itself.
Because of the Costa Rica's emphasis on a high standard of education it can provide the best educated teachers in Latin America. The high standard of living assures a safe setting and traveling, safe drinking water and medical conditions and reliable communications by telephone, fax or email. The people of Costa Rica are friendly, well-educated and outgoing and make it easy for you to make friends. Their Spanish is also one of clearest in Latin America.

Student Guide
WELCOME TO COSTA RICA CULTURE SHOCK
The following is a brief explanation of the symptoms and definition of culture shock which many people experience when arriving in a new country. The first few days and weeks abroad will probably be exciting, stimulating and alive. All you see will be strange, new and rich with tradition. Sounds, smells, gestures and movements will crowd your sensory antennae, leaving you exhilarated and exhausted. This is the honeymoon period. Enjoy it!.
At the same time you may begin to experience the first symptoms of culture shock, the unpleasant disorientation which afflicts every visitor who enters a strange world. It is unfair, but often true, that the more eager you are to enter into the host culture and really understand what its people are like the more severe your shock may be. Tourists who come only to gaze and taste move on and are insulated from the shock. They live in hotels, tale takes, use credit cards and go home in a week or so. But you will try to live like a local citizen, in the «real world», and you may find it hard at first.
The editors of Transition distinguish between tourists and travelers in this way:
«Tourists are those who bring their homes with them to wherever they go, and apply them to whatever they see.
They are closed to experience outside of the superficial.
Travelers leave home at home, bringing only themselves and a desire to see and feel and take in and grow and learn»
Culture shock is partly the result of strangeness everywhere. People seem familiar and friendly one minute and the next it shifts a bit. The cues are wrong. Gestures, manners clothing, the tone and rhythm of voices, the banking system, the telephones; in some cases, language and daily schedules are out of joint.
Culture shock is also what happens when your expectations don't match up with reality. You may be disappointed with what you see: too much noise and not enough thrill. You may be disgusted with your compatriots – they may seem naïve, rude, loud, affected, or provincial. You may even be disappointed in yourself and in your failure to articulate, sophisticated and cool.
While you cannot avoid the first culture shock you can take steps to make it more bearable. Explore the territory, find a map and strike out on your own. Observe people closely and try to pick up the silent language. Avoid clustering with your North American or European friends. Keep a journal and watch yourself change. Above all, keep an open mind, and try to accept the people and culture rather than resist them. This requires great maturity, perceptiveness and skill in cross – cultural communication.
GETTING TO KNOW COSTA RICA
Sampling of established tours:
3 day / 2 night tours: Guanacaste Province, Tortuguero National Park, and Monteverde Cloud Forest Biological Reserve.
1 day tours: Lankester Botanical Gardens, Irazu Volcano National Park, Poas Volcano National Park, the Butterfly Farm, Jacó Beach, and San José City Tour.
SHOPPING
There are many arts and crafts shops throughout San Jose where you can acquire beautiful examples of the artistry of not only the Costa Rican culture but the Latin American, too. The variety of handmade woven, wooden, leather and ceramic crafts will keep any avid shopper entertained for countless hours.
The Plaza de la Cultura, La Casona, the Mercado Central, Plaza de la Democraica and the Mercado Nacional de Artesanía are found in the immediate downtown San Jose. The Plaza de la Cultura offers open air booths where local and foreign arts and crafts are on display. It is usually set up on weekends, but during the week there will still be a certain amount of displays (address: avenida Ctl. Calles 5 / 3). La Casona is a big old two story building where you can fin crafts from all over Latin America (address: calle Ctl. Avenidas 1/Ctl.
The Mercado Central is very typical of the Costa Rican way of life. It consists of a maze of shops and restaurants, flower vendors and product stands. It isn't necessarily the safest or calmest place to buy souvenirs, but it is interesting and very Tico (address: avenida Ctl. Calles 6 / 8). Finally, the Mercado Nacional de Artesanía is like an immense souvenir supermarket (address: avenida 4B, calles 9 /11).
Outside of San Jose: Moravia is a small town just a 20 minute bus ride from San Jose that has a wide array of arts and crafts shops. La Rueda and La Ocarina are just some of the shops found here. Also, many Costa Rican crafts people make their homes in Sarchí, where they create gorgeous pieces from leather and tropical hard woods. These artists paint patterns, originating from when the Moors invaded Spain, on oxcarts, trays, bowls, etc.
HOLIDAYS
Holidays are:
January 1: New Year's day; Holy Thursday and Good Friday; May 1: Labor Day; August 2: Day of Our Lady of the Angels, Patron Saint of Costa Rica; August 15: Mother's day; September 15: Independence day; December 25: Christmas day.
MEDICAL INSURANCE
A comprehensive medical insurance packages are available to cover the cost of medications and doctor expenses in the event of illness while studying and traveling in Costa Rica. For more information, please contact the nearest Costa Rican consulate.
MISCELLANEOUS
We are in Central Standard Time (6 hours behind Greenwich Mean Time).
110 volt A.C. 60 cycle is used throughout the country.
Movies are usually is their original language with Spanish subtitles.
Ticos are caring and happy people who will go out of their way to assist you as long as mutual respect is shown.
Furthermore, the Costa Rican people are very polite by nature. It is appropriate to say «con permiso», «perdón», «disculpe», and «con mucho gusto» (your Spanish teacher will elaborate on these terms).
A good way to avoid contracting an illness is by always washing your hands before meals.
The abbreviations used to indicate address are: C.= calle (street); Ave, = avenida (avenue); and Ctl. = central.
RECOMMENDED READING
The Costa Ricans, by Richard, Karen, and Mavis Biesanz, Waveland Press, Prospect Heights, IL. Contains an excellent description of the Costa Rican's social history and culture.
Costa Rica: A Natural Destination, by Ree Strange Sheck. John Muir Publications. Has emphasis on the national paks.
The New Key to Costa Rica, by Beatrice Blake and Anne Becher, Editoria Texto Ltda, Costa Rica. Guidebook.
Costa Rica, by Paul Glassman, Passport Press, 1989. Guidebook.
The Costa Rica Traveler, by Ellen Searby, Windham Bay Press. Guidebook.
SPORTS
The official and undisputed favorite Costa Rican sport is football (soccer to the U.S.A. and Canada), but because of its cultural and geographical diversity many other options are present. Tennis, jogging, basketball, golf, horseback riding, bungee jumping, and skate boarding, are just some of the sports practiced on land.
Water sports find Costa Rica to be an ideal place to propagate in because of its large quantity of rivers and the two bodies of water within easy reach. Examples of this are surfing, swimming, fishing, white-water rafting, kayaking, windsurfing, snorkeling, and sailing. If you are a great sport buff, you may want to bring your own equipment (i.e. tennis racket, frisbee, etc). There are also many gyms where you can make arrangements to pay only a dropin fee. There is a complete list of gyms and spas at the end of the guide.
ADJUSTING TO LIFE IN COSTA RICA
The Costa Rican culture, like the American and the Canadian, has its roots in the European culture; however, it originated from a different part of Europe and is more European in its present form than the U.S.A. or Canada.
Perhaps the central difference lies in the family structure. The extended family is still the rule, rather than the exception. People have close relationships with their grandparents, uncles, aunts, cousins (even second and third cousins), often living in very close proximity and, sometimes, even in the same household.
In general, children grow up experiencing a wider variety of relationships than their counterparts in North America. Also, a high value is placed on blood relationships. A person recognizes a responsibility toward another person simply because he/she is relate to that person regardless of that person's character or personality .
This is extremely difficult for North Americans, with their experience of the nuclear family, to grasp. Associated with this is the fact that the more traditional male / female roles are still the norm. The male is thought of as the head of the household and, generally, males are catered to by their wives, mothers, and daughters. They are respected, obeyed and, in general, have much more freedom than women to behave as they choose. Women, hence, have much less liberty in their permitted behavior than their North American counterparts.
Not only is the family structure still strong, the sense of community is very much alive. Neighbors are not simply people occupying the next dwelling. People have close relationships with their neighbors, who may well be their relatives. Because of this, everybody knows everybody else's business; a situation many North Americans, who place a high value on privacy, find difficult to live with. There is little opportunity to be anonymous if you are a member of a family and neighborhood in Costa Rica since gossip – much of it motivated by a read concern for the welfare of the members of the community – is a favorite community pastime.
The positive side of this situation is that the members of your host family and neighborhood will be truly concerned for your well – being. It is highly unlikely that people would stand by, uninvolved, if you where in danger. As a member of the community, if only temporarily, you are not treated as a stranger or an outsider. You may call on other members of the community for help, comfort, or to share good times. True, being a member of the community places you under certain constraints, but it also provides you with a type of security that you cannot have as an individual.
DRESSING IN COSTA RICA
The Costa Rican people are very diverse when it comes to clothing, yet, usually they are not as casual as other cultures in their dress. They tend to dress up to go out in the evenings or even to go to San José. Very provocative or very informal wear may attract negative or unwanted looks or comments. Shorts, jeans, t-shirts, tennis shoes, etc, are all acceptable for foreigners in the eyes of the locals, but just be conscious of the place you are in and whether your clothing is appropriate (i.e. jeans at a formal event aren't necessarily proper).
GEOGRAPHY
Costa Rica is part of the isthmus forming a bridge between North and South America; therefore, housing geographical and climatic conditions that allow flora and fauna from the two continents to co-exist in one place, creating an amazing bio-diversity.
It has a land area of 51,100 km2, the second smallest country in Central America, after El Salvador. Is it only 300 km across its widest point, but it would take fifteen hours in perfect conditions to drive from the Nicaraguan to the Panamanian border on the Inter-american Highway.
Its coastline lies on the Pacific Ocean and the Caribbean Sea. The Caribbean Coast is riddled with white and black sand beaches sometimes uninterrupted for large stretches or marked by colorful coral reefs. Is is shrouded with lush tropical rainforests and a spectacular marine life. The Pacific side is over twice the length of its counter – part due to the nature of the borders and the dominant presence of two large peninsulas, the Nicoya and the Osa. The climate is much drier and the land not as rugged. Its beaches are vast with size and beauty, providing a paradise for relaxation.
There are four major mountain ranges running the length of the country, making up a backbone for Costa Rica. The Cordillera de Guanacaste extends south from Nicaragua and consists of active and recently active volcanoes, such as the Arenal and the Rincon de la Vieja. The Cordillera de Tilarán, following the Guanacaste Range, is very inaccessible and is made up of an older group of volcanic mountains. The Cordillera Central stands formidably towering over the Central Valley, and contains two active and two potentially active volcanoes.
These volcanoes have given the Valley rich and fertile soil. The Talamanca Range, which extends into Panama, is the oldest and southernmost of the four. It contains Mount Chirripó with an altitude of 3,820 meters, the highest point in southern Central America.
The country is divided into seven provinces: San José, Cartago, Alajuela, Heredia, Puntarenas, Guanacaste and Limón. The most populated of these, and also housing the capital, is San José. It is found in the Meseta Central (Central Valley), along with portions of Cartago, Alajuela, and Heredia; two-thirds of the country's people live here.
CLIMATE
There are two clearly defined seasons in Costa Rica: the dry and the wet seasons. For San José and the western littoral, the «summer» or dry season goes from December to April; while in the province of Limón, on the Caribbean, it occurs from February to April. The rains come from May through November for most of the country. This usually consists of a couple of hours of rain in the afternoon or early evening, leaving a clear day for the most part.
Yet, the temperature changes throughout the year are not drastically varied at any given location, instead there is a tremendous variation from place to place because of the rugged terrain involved in the country's geography. Temperatures in the highlands range from 10 – 13 degrees Celsius (50 – 55 degrees Fahrenheit), while in the Central Valley they average 22 degrees Celsius (72 degrees Fahrenheit) and 26 degrees Celsius (80 degrees Fahrenheit) at sea level.
SUN
Being 8 to 10 degrees from the equator presents a much more serious risk for acquiring a flaming sunburn than further up the Northern Hemisphere. Take precautions and use a hat or effective sunscreen when exposed to the sun's rays. The importance of this cannot be over-emphasized. The concern is greater when you are at the beach or in the ocean since salt and water are ideal reflectors.
TEMPERATURES AND PRECIPITATION CHART FOR SAN JOSE
MONTH
MEANTEMPERATURE
PRECIPITATION
MEAN
DAYS WITH RAIN
F
C
IN
MM
January
February
March
April
May
June
July
August
September
October
November
December
Annual

66

67

68

70

70

70

69

69

69

69

68

67

69

18.9

19.1

19.9

20.4

20.8

20.5

20.2

20.2

20.6

20.2

19.6

19.2

20.0

0.3
0.2
0.4
1.5
9.6
11.2
9.1
9.2
13.5
13.1
6.8
1.8
76.7
9.1
5.9
12.0
43.7
223.9
287.8
214.9
253.3
332.5
331.1
140.9
40.5
1896.2
3
1
2
7
19
22
23
24
24
25
14
6
170
PEOPLES OF COSTA RICA
Costa Rica has a population of over 4 millions people, with most of this figure centered in the Central Valley (5% of the country's land area). Ninety-five percent of the Ticos, as the Costa Ricans call themselves, are of Spanish descent and the remaining 5% is taken up by English speaking blacks of West Indian origin and Native Indians . Costa Rica has the largest proportion of middle class in Latin America , though, rich and poor people are also found.
Elementary education (compulsory up to sixth grade) and secondary education are free; university is affordable and accessible, hence, the very high literacy rate. According to a United Nations study, Costa Rica holds first place in Latin America for development of preventive and curative medicine. Furthermore, it is ranked near the United States and Canada among the 20 best health systems in the world . Costa Ricans have a higher life expectancy than people from the United States.
On a different note, Costa Rica, as with most other nations, is subject to the difficulties that arise out of inflation and other problems of our times. Salaries have not kept up with the constantly rising cost of living (rent, utilities, and food), and on average, a person with a responsible job is paid about $300 a month .
Overall, the people of this country are very hardworking, cheerful, considerate, and overtly friendly. They have a relaxed view on life and a more laid back attitude. Throughout the following pages you'll learn of some lf the idiosyncrasies that make up this culture and gain insight into the Costa Rican character.
THE GOVERNMENT
The Costa Rican system of government is a democracy served by checks and balances. There are four branches of government: the executive branch, consisting of a President, two vice-presidents, and the Presidential Cabinet; the Legislative Branch, made up by the Legislative Assembly, with 57 elected representatives; the Judicial Branch, with a Supreme Court and an appellate, criminal, civil, and special courts; and the Electoral Tribunal, responsible for organizing and supervising elections. In addition, the President and members of the Legislative Assembly are elected on four year terms and cannot be reelected.
A NATION OF PEACE
The national character of this country has generated an environment where democracy and the tradition of non-violence can propagate, unlike its conflict-ridden neighbors. In the Constitution of 1869 slavery was abolished and free obligatory, tax-financed education was established. The death penalty was eliminated in 1882 and the army eradicated in 1949.
For Costa Ricans, certain benefits are derived from the abolishment of the army, such as: 1) hindering the creation of a military group capable of overthrowing the government; 2) legitimizes the electoral path as the only route to power; 3) Costa Rica's neutrality assures that it won't be attacked due to the illegitimacy of the act; 4) public funds, instead of supporting the army, are funnelled into education, housing, and other public sponsored problems. As a result, this nation can boast of medical service and social security systems that have allowed Costa Rican health to be in the same bracket with that of the industrialized nations.
Today, the unique traits and vision of this nation are furthered by men such as President Oscar Arias, who received the Nobel Peace Prize in 1987 for his attempts to bring peace to the region. In addition, the United Nations University for Peace and the Inter-american Court and Institute of Human Rights are headquartered in Costa Rica, reaffirming the confidence the international community has for the country's political and social stability.
As a newcomer, it is likely you will sense the very tangible pride the Costa Rican people have for their tradition of freedom and democracy, and see why Costa Rica is called the «Switzerland of the Americas».
GETTING AROUND AND TRANSPORTATION
GETTING TO KNOW SAN JOSE
Located in the Meseta Central, San José, is Costa Rica's largest city and its capital. It has a population of over a million people. Withing its bosom, it houses an amazing cultural diversity, museums, pollution, architecture, food, poverty, and other elements that promise to assuage your senses.
Many of its views vary in degree or are different from the rest of the country, as it has been exposed to the rapid evolution of technology and its offspring; while those places outside of San José and, even more so, outside of the Meseta Central show a slower metamorphosis and still present blatant evidence of the «old» Costa Rica. Examples of these differences can be perceived in the dress, language, food, and in general attitudes, making a very intriguing view for a newcomer.
If you look on a map, the street system in San José is laid out in a street-avenue format. Odd numbered calles (streets) are east of the Calle Central and even numbered ones are west. Odd numbered avenidas (avenues) are north of Avenida Central and even numbered ones are south. For example, if the Teatro Melico Salazar's address is Ave.2, Calle Central/2, it means the theatre is pretty much in the middle of the city, facing Avenue 2 and between Calle Central and Calle 2.
This system, though, is not the one used everyday by Ticos. Directions are given with respect to notable landmarks near the place where you are going. The National Theatre, the bar on the corner, or a nearby park all fall under the category of landmarks. The address is then estimated by how many meters and in what direction the place is located from the landmark. Be sure to find our the Tico address for your home in Costa Rica as soon as possible.
TIPS ON LIVING AS A PEDESTRIAN IN SAN JOSE
Street and avenue numbers are found sporadically on the sides of corner buildings. Keep on looking, you'll fin one!.
To find out what's north, east, west, and south, look for a church entrance since this one always faces west.
Literally, in many driver's views, pedestrians have no rights, therefore, always be on the defensive when trying to cross a street as you can be viewed like an entertaining target by many a vehicle.
Don't believe traffic lights!. These present no reason to let your guard down, so be aware of the cars and not only of the lights.
GETTING AROUND / TRANSPORTATION
There is an astronomical tax in place for buying cars and most Costa Ricans can't afford then anyway; thus, the public transportation system in Costa Rica is fairly advanced, much used and affordable. A general understanding of the machinations involved will serve you because the transportation system is so different from the one in North America or Europe.
Buses
If you are traveling from San José to another province, you'll be surprised at the efficiency and the excellent condition of the buses. They leave often and, for example, it will cost about US$ 10 to go the border with Panama or with Nicaragua. Buses within the province tend to be a bit rickety and, at times, packed like a sardine can. Nevertheless, they get you there and most are under 50 US cents.
Some helpful hints:
Exact change is not required.
Pay when getting on the bus (except for when going out of the Central Valley where, in some cases, you buy your ticket at least a day ahead).
If the buzzer does not work, whistle or yell » La parada» at least 50 meters before your stop.
You can stow your luggage (including surfboards) in the bus storage compartments when going outside of the Central Valley.
Buses start running very early, sometimes at 4:30 a.m., and stop between ten and eleven at night.
Taxis
Officially, there are two types of taxis in Costa Rica: orange and red colored. The orange type are airport taxis and can be solicited by phone or hailed at the airport. They have a set price of about US$ 20 to go to and from the airport. The usual taxi you would use is red colored, has a little sign on top and uses a meter, a.k.a. «maría». If the taxi does not fit this description, it is not legal. Beware!. Ask the driver to put on the «maría» before entering the cab; if there is not one or he says it is broken, be sure to agree on a price before getting on. After 10:00 p.m. there is an extra 20% on the fare. It is usually not more than 1000 colones to go across San José in a taxi.
Uber app service is also available.
Road condition
The maintenance of the roads is somewhat lacking compared to the smooth surfaces of countries such as Canada or Germany. Even though Costa Rica's road conditions are some of the best in Latin America, be prepared for a bumpy or dusty ride sometimes.
FOOD
In San José, you'll find practically every type of cuisine represented –Chinese, Japanese, Italian, Mexican, Peruvian, etc – and restaurants to satisfy the most and the least demanding tastes. «Tipico» food in Costa Rica is varied and distinct, simple and delicious. Following is a sampling of some you'll come across.
Arreglados: Sandwiches, usually made of meat, on a tasty but greasy bun.
Arroz con pollo: Rice with chicken and vegetables.
Cajeta de coco: Delicious fudge made of coconut, tapa dulce, and orange peel.
Casados: Includes gallo pinto, salad, meat /chicken /pork, and fried plantains.
Ceviche: Marinated sea bass with cilantro, onion, and red pepper.
Empanadas: Corn turnovers filled with beans, cheese, or potatoes and meat.
Gallos: Meat, beans, or cheese between two tortillas.
Gallo pinto: The national breakfast dish: rice and beans fried together with spices.
Tortilla de queso: A large, thick tortilla with cheese mixed into the dough.
Tortilla: Means the Costa Rican thin, small, corn tortilla.
Patacones: Fried, mashed plantains, served like french fries with meals.
Picadillo: Ground meat, potatoes and chayote fried together with spices.
Sopa negra: Soup made from bean gravy, with hard boiled egg and vegetables added.
Tamales: Cornmeal usually stuffed with pork or chicken, wrapped in banana leaves and boiled. A Christmas time tradition.
Torta chilena: A many-layered cake filled with dulce de leche.
Tortas: Sandwiches on a bread roll.
Ensalada de palmito: Salad with lightly pickled heart of palm.
SOME COMMON MENU TERMS
Al carbon…………charcoal broiled
Asado……………broiled
Batidos…………milkshakes
Coctel……………cocktail
En temporada …………In season
Gaseosas………………Soft drinks
Coteleta…………………Cutlet
Empanizado……………Breaded
«Soda» is an unpretentious cafe where a limited menu provides inexpensive meals.
TIPPING IN RESTAURANTS
It is not a custom to tip waiters / waitresses here. In a restaurant situation, there is 10% automatically added on your bill as a service charge. However, this should not stop you from showing your appreciation of a service received if you feel it deserves merit. In addition, there is a 13% tax levied by the government on all restaurant bills besides the 10%.
FRUITS AND VEGETABLES
The fertile ground and near perfect weather provide for an amazing variety of delicious fruits and vegetables not often seen in North America or Europe. Make sure they have been cleaned properly before ingesting time.
The fruits are fresh and hold tantalizing tropical flavours for the tongue of the beholder. Examples of these are: papaya; piña (pineapple); sandía (watermelon); melón (cantaloupe); mango; mora (blackberry); granadilla and maracuya (related to the passion fruit); mamon and mamon chino (related to the rambutan); carambola (star fruit); guayaba (guava); cas (a type of bitter guava); tamarindo (tamarind); marañón (fruit of the cashew nut); nísperos (loquat); and pipas (green coconuts).
Vegetables are not as widely varied as are the fruits. Yet, they are treats at a meal for those new to their textures, colors, and flavours. Examples of these are: pejibaye (relative of the coconut, with a taste that's similar to a combination of chestnut and pumpkin); palmito (heart of palm); aguacate (avocado, actually a fruit but is used as a vegetable); chayote (waterpear); raíz de chayote (root of the waterpear plant); ayote (squash); guineo and platano (related to the family of the banana); yuca (yucca of manioc); and camote (sweet potatoe).
WATER
There is little concern for the cleanliness and purity of your drinking water in San José, major towns, or tourism complexes outside of the Meseta Central. If in doubt, it is easy to come by bottled water or just stick to pop, coffee, or beer. Soda Blanca is mineral water.
WHAT TO BRING
When contemplating what to bring to Costa Rica be sure to read over the included «Climate» section, since there are many microclimates that vary according to geographical locations. However, being a tropical nation, extremely cold temperatures are never present. For the Central Valley and some other high altitude places, such as Monteverde, it is suggested to have a sweater or a jacket as the evenings tend to be chilly and, in cases like Monteverde, the days, too. In the coastal areas, very light clothes are a definite must. Remember that you will need outfits suitable for attending classes (informal), hiking, going to the beach, and for going out in the evenings.
The following will give you an idea of a suitable wardrobe, but this will vary according to your activities while in Costa Rica:
Two pairs of very comfortable shoes (one of them sandals).
One pair of formal shoes for such occasions.
Socks / stockings.
Light cotton pants / jeans / skirts / shorts.
T-shirts (one of them with long sleeves).
Shirts / blouses / tank tops.
Nightwear (for cool and warm weather).
Swimsuit / beach wear.
Raingear (raincoat and boots / galoshes).
One dressy outfit.
Several lightweight wool or cotton sweaters / jackets.
OTHER SUGGESTED ITEMS TO BRING
Good sunglasses
Sunscreen *
Insect repellent *
Beachtowel
Money pouch
Umbrella (depending on season) *
Hat / cap *
Binoculars
Pocket alarm clock
Pocket calculator
First aid kit (band aids, disinfectant, etc)
Camera
Spanish / English dictionary
* Can be easily acquired in Costa Rica
TOILET ARTICLES
Most of these can be found at any pharmacy or supermarket in Costa Rica. Toothpaste, toothbrushes, sanitary napkins, q-tips, razor blades, soap, insect repellent, and other such items are of good quality and decent price. If you are accustomed to a certain brand (such as of shampoo, shaving cream or skin lotion), be sure to bring enough for your stay as these may not be available. Items such as tampons, cosmetics and hair styling products have exorbitant prices and sometimes are hard to come by.
MEDICATION
If you are taking any medication, be sure to have a full supply with you, to bring your prescription, and to have a doctor's note in case of emergency. Aspirin, acetaminophen, cold medicine, anti-itch ointment, and other commonly used pharmaceutical products are easily available at drug stores or supermarkets. For women: if you are on a contraceptive method, such as the birth control pill or diaphragm, come fully equipped.
PHOTOGRAPHIC EQUIPMENT
For both experts and beginners, Costa Rica is a photographic paradise. Fuji, Kodak, and other major suppliers maintain outlets here for the provision and development of film, however, both are at a slightly higher price than in North America or Europe. To avoid this just bring your own supply of film and wait until you return home for processing. Photographic equipment should be closely guarded as it is a temptation to thieves. Foreigners are only allowed to bring two cameras into the country.
IPODS / IPADS / TABLETS / ETC
An iPod/iPad/Android Tablet or a small radio can provide hours of entertainment on long bus rides or be used as a way to enjoy the true local spirit (i.e. Salsa, Cumbia, Merengue, etc). There are many radio stations that program rock & roll, classical, latin, or easy listening music. Try to keep them in a stable environment and carry them in a proper case.
IMMIGRATION AND ENTRY REQUIREMENTS
If you have a passport from the U.S.A., Canada, and most European countries (see list below for specifics), you can obtain a 90-day or a 30-day visa from the airline issuing the ticket. This visa grants you tourist status for a period of one to three months. You must also have al least US$ 400 and a departure ticket when entering the country. If you have a question, check with the nearest Costa Rican consulate.
There is a 8500 colones tax ($17), payable at the airport when you leave the country. If you wish to stay longer than your 30 or 90-day visa, you will need an exit visa to leave the country. An exit visa gives a 30 day extension on you visa. A local travel agent, for a small fee, can get one of them for you with at least three working days anticipation before you are scheduled to leave. Exit visas cost about US$ 12.
Citizens from the following countries can obtain a 90-day visa:
| | |
| --- | --- |
| Germany | Argentina |
| Austria | Canada |
| Israel | Colombia |
| South Korea | Denmark |
| France | Luxembourg |
| Spain | Finland |
| Holland | Italy |
| Great Britain | Norway |
| N. Ireland | Japan |
| Rumania | |
Citizens from the following countries can obtains a 30-day visa:
| | |
| --- | --- |
| Australia | Belgium |
| Brazil | United States |
| Ireland | Sweden |
| Guatemala/td> | Iceland/td> |
| Monaco/td> | Venezuela/td> |
| Vatican/td> | New Zealand/td> |
If your country of citizenship is not on the aforementioned list, please contact the local Costa Rica consulate for information.
AIRLINES
Lacsa/Taca, Costa Rica's national airline, has toll free numbers in the U.S.A. and Canada (1-800-225-2272), in England (01499-6731), and in Japan (445-48-74). Most airlines that don't travel directly to Costa Rica have an agreement with Taca; for example, if you are coming from England, you can take British Airways to Miami and from there fly to Costa Rica on Taca.
Following is a list of some of the airlines servicing Costa Rica:
Iberia, LTU International Airways, American Airlines, Aviateca, Delta, Continental, Mexicana, Taca, Varig, and United Airlines.
Contact your travel agent to make reservations in advance, and be sure to be at the airport at least with two hours anticipation.
Canadians have the opportunity to come to Costa Rica on an affordable charter flight. Fiesta Way-farer Holidays in Toronto, (416) 498-5566, and Fiesta West in Vancouver, (604) 688-1102, charter flights from these cities to Costa Rica year round. Go Travel in Montreal, (514) 735-4526, charters planes December through April.
LUGGAGE
Remember that airlines require identification on all bags checked, regardless of type. It is also recommended that your name and address be on the inside of your luggage, should the tag get lost. Always carry your passport and valuables on your person and never in your luggage. You will be responsible for your own bags throughout your trip, therefore, travel light and never leave them unattended on trains, buses, airports, and terminals. Be sure to confer with your travel agent about regulations concerning amount and size of luggage allowed by the airline per passenger.
EXCHANGING MONEY
Because exchanging money can be time-consuming and sometimes risky, most of the schools offers its students an exchange service. You may leave your traveler's checks or U.S.A. dollars with them in the morning and pick up your colones in the afternoon. The currency in Costa Rica is called «colones» and is found in denominations of one colon coin to a 20,000 colones bill. The exchange rate tends to fluctuate slightly, therefore, you can look in the newspaper or call a bank for the latest exchange rate. Banks are open from 8:30 a.m. to 5 p.m., Monday to Friday. Most of them also opens on saturdays till noon.
United States dollars are the preferred foreign currency. Banks will charge a 1% commission to exchange traveler's checks, but not on exchanging cash. It is recommended to have most of your money in U.S.A. traveler's checks, preferably in small denominations (US$ 10, 20 or 50). Check numbers should be recorded and a copy of them kept in a safe place just in case of loss or theft.
Visa, Mastercard, American Express, and Diners Club credit cards are accepted in many places within the country, such as at big tourist complexes or restaurants. It is recommended to exchange your money in San José as it is difficult to do so in the outlying areas. Colon bills in small denominations are more readily acceptable because change is sometimes hard to come by. When you leave the country, you will only be able to exchange US$ 50 worth of colones back.
MAIL SERVICE
Mail is not usually delivered to homes in Costa Rica; most people have a post office box. Family and friends should send letters by airmail. Airmail usually arrives in a week to the days; surface mail takes two or three months. The word «Airmail» must be on the envelope, even if it has sufficient postage. Airmail book rate to Costa Rica takes about a week, while surface parcel post and book rate can take four to eight months.
Duties are almost always levied on parcels sent to Costa Rica. Import duties often exceed the value of merchandise sent. Never have food sent!. Letters to North America and Europe travel faster when mailed from a downtown post office than from the Institute.
INTERNET AND E-MAIL
Most of the schools have Internet available for their students, if not, Internet Cafes are widely available throughout the country.
TELEPHONES AND INTERNATIONAL CALLS
Telephones in Costa Rica are listed under the name of the owner of the house (not necessarily the same as the occupant), which could make impossible for your family in North America or Europe to obtain your phone number through information. Please, inform your family of your address and phone number.
The cost of local calls in Costa Rica varies with the length of the call. All telephone calls in Costa Rica are toll calls and charges are assessed per second and per call. Your house mother will appreciate short informational chats rather than lengthy conversations. A personal arrangement between student and house mother regarding the use of the phone will prevent misunderstandings.
International phone calls should only be collect or payable on a credit card (i.e AT&T, MCI or Sprint) if made from a home.
International phone and video calls at Internet Cafes (VoIP) are widely available in all major cities throughtout the country.
You can use your movil phone too. Roaming is widely available. While staying in Costa rica you can by a sim card and use your own smartphone or buy a cheap one ina ia phone company like Kolbi (ICE) or Claro.
Skype, Whatssapp or any other app to communicate works just fine. Most of the houses and places has wi-fi available, usually at no cost, all you have to do is ask for the password.
PERSONAL SAFETY
There is a lot less violence in the entire country in a month than there is in any major North American city in a night. However, robbery and common thievery present a problem. A degree of common sense along with a few tips can help you in preventing any unfortunate experience from happening.
In San José:
Try to avoid wearing expensive and / or flashy jewelry or watches; these present easy targets to be janked off.
Don't carry your money / wallet in your back pocket; place it in your front pocket, a traveler's money pouch, or in a bag held securely to your front.
When traveling independently, always go in groups of two or three.
Try not to walk in parks or doubtful neighborhoods by yourself during the evening.
Be aware of your perimeter while in crowds.
Keep a record or copy of your identification, traveler's checks, credit card numbers, etc, in a safe place.
Make sure that someone knows where you are at all times. If you are traveling on weekends, leave emergency phone numbers with your family and friends. If you are delayed on your return, call your host mother and let her know .
If you have a very expensive piece of jewelry, watch, or camera, be prepared to watch them attentively.
These hints also apply, to a much lesser degree, outside of San José. If you are at the beach, leave your valuable belongings where you are staying or camouflage them well when you are swimming, etc.
The best way to avoid a negative experience is to act confident and aware, and use traveler's caution. Yet, it is important not to sacrifice friendliness or you won't come to know the kindness and humor of some very congenial people.
PASSPORT AND PHONE NUMBERS
By law, you must always carry your passport or tourist card. A photocopy of your passport (including the photograph and date of entry) can satisfy this requirement. The enormous quantity of foreigners entering Costa Rica make it necessary in order to preserve control. If you can't present this documentation, the immigration official may take you to a police station to obtain the information from there.
Emergency phone numbers, should always be on your person. A list of important phone numbers (such as police, ambulance, and airlines) is provided at the end of this guide.
THINGS TO KNOW
GREETINGS
In greeting a person, Latins tend to place more emphasis on physical contact than most North Americans or Europeans. When men are greeting men, they shake hands. When women are greeting men or other women, they apply a light kiss on one of the sides of the person's face, sometimes accompanied by a light embrace.
FOR WOMEN
Costa Rican men enjoy flirting with women, even accompanied ones. It usually consists of a whistle or an oral comment, such as «bellísima», «mi amor», «machita», or something to the effect. Rarely does it involve contact. It can be quite disturbing if you are not used to it and the best advice is to just ignore it, don't make eye contact, and keep on walking.
HEALTH CARE
The Hospital Clínica Bíblica (avenida 14, calle Ct 1/1; phone #2223-6522) and the Hospital La Católica (Guadalupe; phone #2225-9095) have facilities available for emergencies, laboratory, X-ray, and pharmacy among others for foreigners. Some of the doctors and personnel at these hospitals speak English.
If you are ill and require assistance or if you have a question, please make it know to a staff member. If you have diabetes, if you are allergic to any substance, or if you have a physical condition that may require emergency attention, you should make sure the Institute and your host family are aware of it.
INOCULATIONS
No inoculations are currently required for entry to Costa Rica and re-entry to your country. Some traveler's prefer to be vaccinated for yellow fever, typhoid, typhus and malaria, particularly if they are planning to visit some of the remote areas of the country. The choice is yours. If you do decide to be vaccinated, the vaccinations can be recorded on the «International Certificate of Vaccinations», which is available from public health officials and some physicians.
ON SPEAKING SPANISH
The following are some suggestions for improving your ability with the Spanish language:
Speak Spanish as much as possible
Don't be shy about making mistakes. Most people are quite patient and helpful. In fact, most of them feel honored that you should want to learn their language.
Keep a notebook of new words, when ever you hear a word you don't know, write it down. It then becomes more familiar. You might want to divide a notebook into categories, i.e. adjectives, nouns, prepositions, and prepositional phrases, etc.
Review your grammar: verb tenses (especially the subjunctive), gender of nouns and accordance of articles prepositional phrases, etc.
Use an all Spanish dictionary: you'll learn more in the long run. It will take longer at first, but your vocabulary will increase rapidly. An inexpensive one be purchased in Costa Rica.
Expose yourself to Spanish: listen to conversations and the radio, watch Costa Rican television, read newspaper and magazine. The greater the exposure, the faster you will learn.
READING
As you are learning Spanish, it is suggested you try to read much as possible in this language. Common newspapers are La Nación or Diario Extra and magazines such as Perfil.
Comentarios Facebook