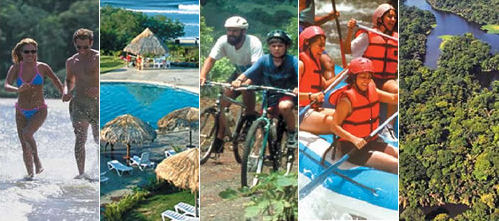 Adventures Destination
Due to its topography and nature, Costa Rica is perfect for practicing adventure tourism. There are many possibilities including rock climbing, sorkeling, windsurfing, kayaking, and parachuting. Among many points, highlight four for being well known all over the country. It is about canopy, rafting, bungee jumping and canyoning.
Canopy, which was used by scientists to study the forest, was born as a tourist option in 1992, precisely in Costa Rica. As if they were flying, tourists move at high speed among platforms at the top of the trees that are connected among each other by a system of cables.
Referring to adventure tourism, in Costa Rica, canopy is the most popular activity, there are more than 150 registered operators. That's how it is possible to practice canopy in almost all forests in the country (for example in Turrialba, Monteverde, Orotina, San Ramón and Sarapiquí). Even some hotels already have their own canopy.
Canopy is followed in popularity by rafting. The country is perfect for its practice; many of our rivers are catalogued among the best in the world to practice rafting.
Rafting refers to a sport in which a river of strong waters is gone through in a raft, with the help of the current and rows.
There are several companies that offer the service in many rivers along the country. These are c1assified according to the difficulty level; class I (easy), class II (beginner), class III (intermediate), class IV (advanced), class V (expert) and class VI (extreme), although, in many occasions in one river there are parts of different levels.
The most popular rivers -to highlight the most appropriate enes- for rafting are Reventazón, Pacuare and Sarapiquí. Also, Pejibaye, Peñas Blancas, Savegre, Naranjo, El General and Corobicí.
Bungee jumping consists on jumping from a high spot, while being attached by an elastic rope with a special harness both in the feet and the back.
In Costa Rica, it is practiced on the old bridge, 80 meters high, over Colorado River, in Naranjo, Alajuela. In La Fortuna town, also in Alajuela, it can be practiced, although from a lower height. The launching is from a crane that stands over a pool.
Finally, there is canyoning. This consists of descending through the canyon of a river next to a mountain, sometimes by foot by lands difficult to transit, and sometimes, most of them, descending vertically with the rope technique of rappel by the walls of cascades.
Canyoning is really exciting and allows living the outstanding sensation of going down waterfalls while feeling the cold water splashing both body and face. It is mainly practiced in La Fortuna, Turrialba and Península de Osa.
Comentarios Facebook