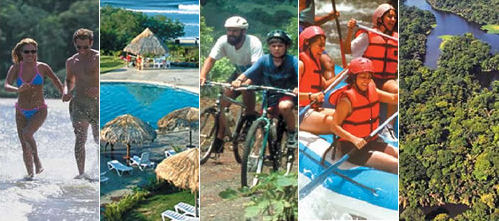 Outdoor Activities
Ballooning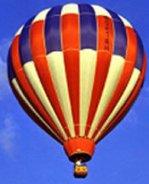 For some people, a flight in a hot air balloon is a dream they've had for years, for others, it's something they've never even dreamed of. But for many visitors to Costa Rica, that dream has become a reality. And in Costa Rica, the excitement inherent in ballooning is complemented by unforgettable landscapes and close exposure to tropical nature.
Balloon flights have been offered to visitors for the past three years, with three possible flight routes to choose from. The Naranjo flight — the only one that can be done from a San Jose hotel — takes passengers over coffee fields, farms and scenic towns as on the slopes of Poas Volcano. The San Carlos option heads over a private rain forest reserve, where the balloon floats slowly through the tree tops past flocks of parakeets, toucans and troops of monkeys. The third option is a flight down the verdant Reventazon River Valley, over churning rapids and patches of wilderness. Multi-day packages can be offered. They combine ballooning with a variety of other outdoor diversions, such as rafting and mountain biking.
Horseback Riding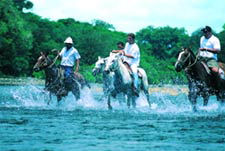 There are opportunities to go horseback riding almost everywhere in the Costa Rica, and climbing onto the back of a spirited equine can be a wonderful way to spice up your vacation. The selection of horseback excursions ranges from morning trail rides in the mountains above San Jose, which get you back to your hotel in after lunch, to all-day expeditions through the rain forest that will leave you walking like John Wayne.
Though you might not associate it with a tropical country, Costa Rica has quite a cowboy culture. The tradition is primarily based in the province of Guanacaste, one of the first parts of the country to be settled by the Spanish, where vast cattle ranches cover rolling hills and forest-draped volcanoes tower above it all. Nevertheless, mountain resorts and nature lodges located all over the country offer horseback excursions, which can head through pastures, tropical forests, or down beaches, and often stopping at waterfalls and swimming holes.
Horseback tours are also excellent opportunities for bird watching and getting close to timid wildlife, and the people who lead them often have eagle eyes peeled for interesting critters.


Mountain Biking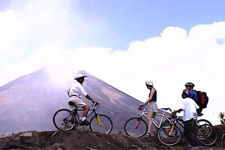 With its countless kilometers of dirt roads and paths traversing a variety of terrain, Costa Rica has enough mountain biking routes to keep a serious biker rolling for years. But you need neither be an enthusiast nor willing to deal with the hassle of dragging a bike along as luggage to enjoy the sport there. Mountain bikes can be rented at most resort towns, and several local companies offer mountain bike tours of the country's less visited areas, many of which are mellow enough for people who haven't been on a bike for years.
A good selection of one-day tours head out of San Jose to nearby attractions, such as Irazu and Poas Volcanoes, and the inspiring Orosi Valley. A more strenuous day of pedalling takes you through the forests of El Rodeo, a protected area near Ciudad Colon. There are also multiple-day mountain bike tours, which range from a two-day exploration of the area around Arenal Volcano to a six-day tour of the Osa Peninsula. Bikers who bring their own wheels will find no shortage of routes in Costa Rica. The southern Nicoya Peninsula, which is crisscrossed by sparsely travelled dirt roads, is the perfect region for mountain-bike touring, as is the southern Pacific Coast, especially the area around the Golfo Dulce.
Comentarios Facebook