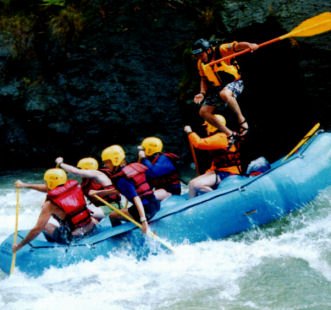 Whitewater Rafting
With some of the best rivers in the world and warm water, Costa Rica is a world-class rafting destination for experts and beginners alike. The unique appeal of rafting is that, while bathed in beauty, you alternate from the tranquility of drifting lazily down quiet currents, to the sheer excitement of hurtling through exploding whitewater. This combination of calm and intense emotion leaves you not only relaxed, but also cleansed.
Dominated by mountains and water, Costa Rica is split down the middle with high ranges that run like a backbone-down the tiny country. It's unlikely that any other place on the globe contains so much navigable white water per square mile. Add to that rivers ranked within the top ten of wild and scenic rivers worldwide, and you have an internationally renowned whitewater destination.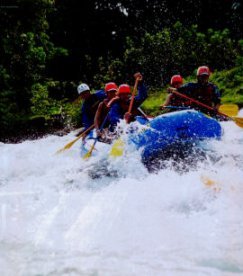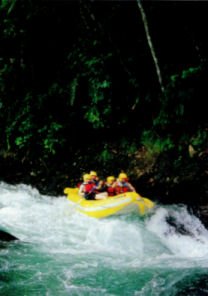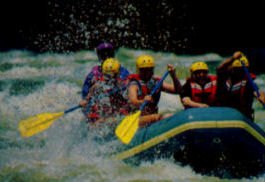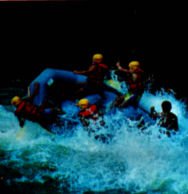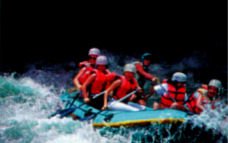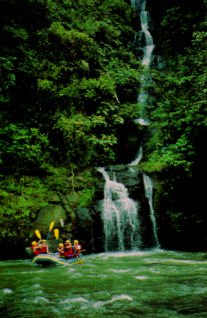 Due to the pristine areas where many of these rivers are found, white water rafting has been linked inseparably with nature tourism, providing visitors the opportunity to view a great deal of wildlife while on the water. The options of trips are enormous, from family-friendly smooth flowing rivers to adrenaline raising class III and IV runs. Experienced operators throughout the country offer single and multiple day trips, in many cases linked with other forms of adventure and nature tourism. Costa Rica's «wet» season—May through October—brings the water levels up to exciting levels, but all trips are taken based on acceptable safety conditions.
River classes can often have a significant range in difficulty level, depending on the section run. What follows is a list with a description of rafting rivers and class levels, but the many professional operators can offer more complete information on options:
Reventazón: The Tucurrique section (Class III) is easy enough for first-timers. The Pascua section (Class IV-V) is very wild, and requires previous rafting experience. Can be run year round.
Pacuare: The country's longest and most spectacular river trip (Class III-IV), can be run from mid May to mid March. Two day trip recommended.
Sarapiquí: Beautiful river (Class II-III), good trip for beginners. Can be run out of San Jose or Arenal area, from mid May to mid March.
Savegre: Another beautiful river (Class II-III) perfect for first-time rafting experience. River trips leave from Manuel Antonio and Quepos, May to January.
Naranjo: A wild river (Class III-IV) near Quepos that requires some rafting experience. Run from June to November
El General: A popular three-day kayaking or rafting trip (class III-IV) best during the height of the rainy season, September to November.
Corobicí: near the town of Cañas, in Guanacaste, an easy river good for beginners and families (Class I-II); great animal and bird watching.
River classes can often have a significant range in difficulty level, depending on the section run. What follows is a brief
Rio Peñas Blancas; class I to IV
Rio Sarapiquí; class I to V
Rio Pacuare; class III to IV
Rio Reventazón ; class II to V
Rio Corobicí; class II
Río Tempisque; class I
Rio Toro; class III to IV
Río Toro Class 3-4 Full-Day Rafting
"Don't leave Costa Rica without rafting the Rio Toro!"
— Brian Shelling, Ottawa
The adrenaline-packed Río Toro explodes with a series of over 45 continuous class 3-4 rapids – you'll paddle 3 hours through unexplored, tropical wilderness in a deep canyon with waterfalls, exotic animals and tropical birds.
It's all about teamwork as you and your Costa Rican river guides negotiate exciting rapids with names like Morning Coffee, Piña Colada and the Devil's Elbow – for your best day in Costa Rica!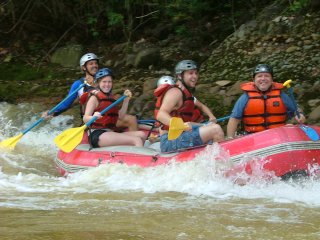 The mighty Río Toro Class 4 – the closest class 3-4 river to the Arenal Volcano. Spend more time on the river than on the road!
Departs everyday: 8:30 a.m.

Returns: 3:30 p.m.

Includes: transport, guides & safety kayaker, tropical fruit, delicious home-cooked Costa Rican lunch & an exclusive, small-group tour experience.

What to bring: a big smile, a sense of adventure, clothes to get wet in, secure shoes & dry clothes for after the trip.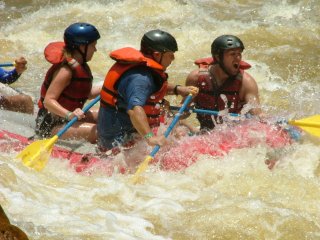 Price per person: US$80.00 (no discount for children)
Note: additional charge for hotels outside of our normal pick-up zone
If you're interested, or just want more info, please send and E-mail to:
Comentarios Facebook