From North to South, from East to West…live the experience of a lifetime
Guanacaste Tourist Area
The exuberant beauty of the Northern Pacific
Warm, beautiful, and unforgettable beaches with sands of different textures and piercing cotors, plus dozens of places to visit, make Guanacaste Province the largest tourist attraction in Costa Rica.
Guanacaste, a región of folklore, music, color, delicious casados (typical home-made dish), has its own international airport, the point entry into this charming land of five-star beach resorts, or small and cozy lodges.
Golfers or deep-sea divers also find here a very special place to enjoy and taste appetizing lobster, ceviches, or a delicious whole fish.
This was an ancient meeting place of native Americans of the wise Messo American culture. Its beaches are particularly suitable to bask in the sun or swim. Abundant marine ecosystems that are the habitat of a large variety of fish, sharks, mania rays, and the clown shrimp provide excellent diving spots.
Just like other areas of the country, Guanacaste has private natural reserves you can visit, if you previously got in touch with the Costa Rican Private Natural Reserve Network.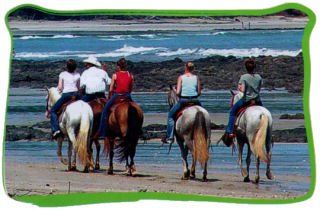 GUANACASTE'S AREA OF CONSERVATION
The Guanacaste National Park, created on July 25, 7 989, covers an area of 36.000 hectares. There is much ecological diversity throughout humid pacific rainforest, cloud forest and dry rainforest. There are three biological stations, each equipped with basic services for investigators and eco-tourist groups.
CACAO BIOLOGICAL STATION
LOCATION
This station is located approximately 25 kilometers north of the city of Liberia. After arriving at Potrerillos on the Interamerican Highway, you continue 9 kilometers to the town of Quebrada Grande where you continue 15 kilometers to Gongora. You can only travel on horseback or on foot from this point on.
INSTALLATIONS
There are 4 rooms that can fit up to 32 people. The bathrooms are shared. There is also a kitchen, a laboratory and hiking paths to the ancient volcanic cone and to the Maritza Biological Station. There is no electricity here.
MARITZA BIOLOGICAL STATION
LOCATION
Maritza is located on the hillside of the Orosi Volcano. The entrance to the Station is 8 kilometers from the Santa Rosa National Park, across from the intersection of the Interamerican Highway and the Cuajiniquil highway.
INSTALLATIONS
Accommodations for 32 people, food service with reservations, electricity, an aquatic laboratory and a conference room.
PITILLA BIOLOGICAL STATION
LOCATION
Located on the far east side of the Park on the hillsides of the Cerro Orosilito. The station is accessed through the community of Santa Cecilia. The intersection to Santa Cecilia is located 22 kilometers north of Santa Rosa (2 kilometers south of La Cruz) on the Interamerican Highway. Pitilla is 7 kilometers south of Santa Cecilia.
INSTALLATIONS
It has accommodations for 20 people. There is no electricity. The kitchen can be rented. Conference room available.
SANTA ROSA NATIONAL PARK
LOCATION
Located 32 kilometers north of the city of Liberia on the Interamerican Highway. From there it is 7 kilometers from the entrance to Santa Rosa to the administrative area or La Casona.
IMPORTANCE
In 1966, this area was declared a National Monument and in 1971, a National Park, it covers an area of 37.117 hectares divided into two sections: Murcielago and Santa Rosa. The Center for Investigations of the Tropical Dry Forest and the Nancite Biological Station are located in Santa Rosa.
INSTALLATIONS
Accommodations for 76 people (students or investigators). The documentation center offers basic and specialized biological information. There is a computer center for conferences, camp grounds, hiking paths, rest rooms, photocopier, telephone, fax, food service, guides, and walking tours.

RINCON DE LA VIEJA NATIONAL PARK
LOCATION
There are two access routes: one through Las Pailas and the other through Santa Maria.
LAS PAILAS
Located five kilometers north of the city of Liberia on the Interamerican Highway. After arriving in the town of Guadalupe, you continue 20 kilometers to the entrance of Las Pailas.
SANTA MARIA
Located 25 kilometers east of La Victoria in the city of Liberia. A 4×4 vehicle is recommended.
AREA:
The total area of the Rincon de la Vieja Notional Park is 14,083.9 hectares, including Las Pailas and Santa Maria.
IMPORTANCE
Nine volcanic points have been identified at Rincon de la Vieja. Among them is the active crater with 1898 meters above sea level. Another volcanic point is the Santa Maria that measures 1907 meters high.
This area has much flora and fauna diversity due to its size (14.083,9 hectares), climatic diversity and its Atlantic and Pacific slope. This is an area of great hydrographic importance. It supplies the entire province of Guanacaste.
INSTALLATIONS
Camp grounds, rest rooms, information the administrative area.
LAS PAILAS ATTRACTIONS
Pailas Waterfalls (rainy season), fumarolas, lagoon, small votcan, mud pailas, Río Blanco pond, Escondidas Waterfalls, La Cangreja Waterfalls, Crater, Cerro Von Seebach.
SANTA MARIA ATTRACTIONS
La Casona Exhibit Center, El Trapiche, El Colibri hiking path, cold water pailas, Bosque Encantado Waterfall, thermal springs, El Mirador.
Other important natural attractions:
Bolaños Island, Junquillal Bay Wildlife Refuge, Santa Elena Bay, Culebra Bay, Gulf of Papagayo Beaches. Some of the beautiful beaches here are: Prieta Beach, Nacascolo Beach, Iguanita Beach, Pochote Beach, Blanca Beach, Panama Beach, Hermosa Beach, Coco Beach, Ocotal Beach.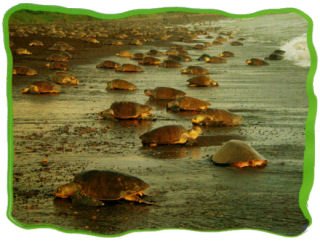 Coroboci River (rapids), Miravalles Volcano, Tempisque River, Palo Verde, Guaitil, Las Baulas National Marine Park, Tamarindo River Mouth.
Information supplied by Mrs. Damaris Caravaca of the Guanacaste Chamber of Tourism.
Comentarios Facebook